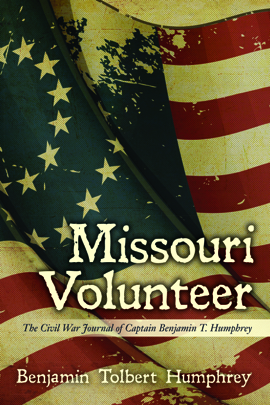 This is the home of Missouri Volunteer, the Civil War Journal of Captain Benjamin Humphrey, which was  published April 2015.
Missouri Volunteer follows Captain Benjamin T. Humphrey's service during the Civil War. Transcribed from his handwritten journal, it documents the daily experiences of Capt. Humphrey and the men of the 7th Missouri Cavalry Company M. The journal includes references to many of the men he served with, as well as, the company's movements across southern Missouri and Arkansas. During their service, Capt. Humphrey and his men find themselves on long marches over rough, unfamiliar terrain, on the battlegrounds at Prairie Grove and Van Buren, at the surrender of Little Rock, and as witnesses to the hanging of Confederate spy David Dodd.
The journal lingered in an attic forgotten for over 100 years before being uncovered. The original 4 pocket sized books were written in pencil, or in ink if a pen was available. While the words have faded and some pages have been damaged by water, reading such a personal account of the civil war provides a unique perspective on what it was like day to day.
Capt. Humphrey was farming in northern Missouri when the Civil War broke out, and he, along with neighbors and family, joined the Union Army. While he had never sought out a military career, he quickly adapted to taking charge of the men with whom he served, showing care and compassion. His journal entries detail the days in the life of a soldier, from locating the enemy, to finding food for themselves and their horses.
Through the hardships of war the men of Company M work together to preserve the Union and return home safely.
Publication Date: Apr 13 2015
ISBN: 9781508453345
Page Count: 216
Language: English
Categories: US History / Civil War
Price: $9.95 print / $7.95 digital
Available in Print or Digital at